Notes page for July 31, 2003 radio broadcast
This week on July 29 the SOHO satellite camera C2 and C3
feeds were taken off line in the middle if the night at approximately 23:00 UT
and we now are still seeing the results of the immense flare that NASA did not
want you to see … was there another comet coming in ??? you will never know
… also the Hubble space telescope is being take off line permanently … geee
what a coincidence … i think that this is just the precursor to what may come
(the excuse is being planted so if people begin to see something NASA has the
excuse in place regarding why they cannot show you a picture of what you
are seeing in the sky … this week also we saw record solar effects with solar
wind speeds in excess of 1000 km / sec or almost triple normal levels and they
are sustaining around 800 km / sec ….
SOMETHING BIG IS GOING ON WITH THE SUN AS NASA TAKES
MORE EQUIPMENT (THAT YOU PAID FOR) OFF LINE
THE "SPEEDOMETER" IN THE MIDDLE IS THE SOLAR WIND
SPEED … WE HAVE BEEN IN THE "RED ZONE" FOR WEEKS / WHAT THIS DOES
NOT SHOW IS THAT IT HAS BEEN SPIKING AT OVER 1000 (TOTALLY OFF SCALE) … I BET
YOU DIDN'T HEAR ABOUT THAT ON THE EVENING NEWS WITH DAN RATHER AND PETER
JENNINGS … AT LEFT IS THE MAGNETIC FIELD DIRECTION OF THE PLASMA MAGNETOSPHERE
OF EARTH AND IS POINTING SOUTH (MEANING OUR OWN NORTHERN TERRESTRIAL MAGNETIC
FIELD IS BEING NEGATED) AND AS A RESULT WE ARE SEEING HEAVY AURORA AND X-RAY
CONDITIONS AT EARTH – IF YOU KNOW SOMEONE AT ONE OF THE RESEARCH FACILITIES AT
THE SOUTH POLE THEY WILL MOST LIKELY BE GLOWING THE NEXT TIME YOU SEE THEM …
THE HEALTH RISKS ASSOCIATED WITH OUR ONGOING REVERSALS OF THE MAG FILED ARE NOT
BEING REPORTED …
THIS IS VERY SERIOUS STUFF FOLKS … THE REASON WE
HAVE A SPACE AGENCY WITH A $15 BILLION DOLLAR A YEAR BUDGET IS TO WARN YOU ABOUT
SUCH THINGS … WHY ARE YOU SEEING THIS ON AN INTERNET RADIO SHOW THAT I PAY FOR
OUT OF MY OWN POCKET???
THE AURORAL CONDITIONS MENTIONED ABOVE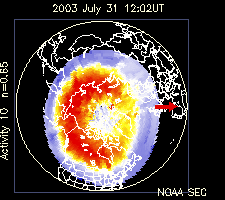 note 2 things here … one is that the intense auroras
are reaching into the northern states which is not that unusual for this time of
year … and the direction of the intensity away from the direction of the Sun
(solar direction noted by the red arrow)
This is the flare that was occurring when the SOHO feed
went down / when the feed resumed one cannot trust the data after that or that
an incoming comet was not "photo-shopped and cropped out"

your weekly dose of x-rays – each red bar represents a 3
hour period / thus a 12 hour period of extreme x-ray activity
question … why are the storms here not developing into
hurricanes … wait until August 27 and find out as the electrical alignment i
have been talking about with the new moon, Earth, Mars and the "Return
Current Sheet of the Solar Capacitor" come together
Mars moving into alignment over the moon … a nice pic
… wait until the ELECTRICAL ALIGNMENT August 27
gallery-moon-mars-alignment 07232003.dat
according to NOAA there are no tropical storms … tell
that to the people in India … note the weather over Antarctica … almost all
of this water over Antarctica is coming in from outside the planet
one final pic from the mars gallery … sand dunes at
the Martian north pole … Percival Lowell may very well have called these
"martian huts" … "proving there was life on mars and
these were the huts of the dying race that built the canals to move water around
to save their dying civilization"
… at any rate a nice pic to end with
have a good week and keep tuned to the new weather
postings on my home page … stop at the home page first for summary updates …
then link to the Sun-Earth-Weather page for standardized details and up to the
minute solar weather that affects you
left mouse click to return to the home page